Rainwater Harvesting assists stormwater management, water conservation, local waterways preservation and improved green infrastructure. The industry itself is underpinned by a robust network of manufacturers, designers, installers, repairers, and end-users. It is fast-evolving; impressive advancements have been made, and those at the fore continue to innovate via technology.
Below are some of our favourite new developments in the tech space of this dynamic industry—
Blue Mountain Co, Tank Gauge Plus
We know that rainwater tanks can be located anywhere — sometimes close to your property, sometimes further afield. We also know that we rely on our phones now more than ever. Blue Mountain Co has effectively capitalised on these realities to deliver Tank Gauge Plus, a monitoring gauge that tracks water tank levels via a customised app. Real-time data surrounding volumes, inflows and outflows — on one or multiple tanks — is sent to users at chosen intervals. Easy to install and with Bluetooth, Sigfox, NBIoT or Satellite technology for connectivity, there is a Tank Gauge Plus to suit almost any situation or location.
Kingspan, Smart Tank
In terms of a complete rainwater harvesting solution, the Kingspan Smart Tank is the way to go! Kingspan has innovated sensor technology and implemented smart remote monitoring that allows users to view tank data on the web or via mobile phone. Information — including inflows, usage, storage volumes, functionality maintenance data and service logs — are trackable and manageable at the click of a button! Effective rainwater harvesting means knowing how much water is in your tank, how much (water) is being used, and whether the system as a whole is functioning correctly. The Smart Tank technology captures and relays these crucial details along with access to DIY tools and videos to help with simple maintenance
https://www.kingspan.com/au/en-au/products-brands/water-tanks/water-tanks-range/residential-water-tanks/kingspan-smart-water-tank
Beltrami, AcquaSaver Model 2020
Let's talk switches. Hydraulically operated, requiring no electrical consumption or components? Check! Regular maintenance not necessary? Check! Solid brass construction and fully waterproof? Check and check! Say hello to Beltrami Group's new version of the market-leading AcquaSaver. This valve is an automatic, integrated rainwater/mains changeover device designed for a submersible pressure pump system in the rainwater harvesting context. Easy to install into the top of your rainwater tank and connected into the house and from mains water. To find out more, and for a comprehensive list of features, visit www.acquasaver.com.au.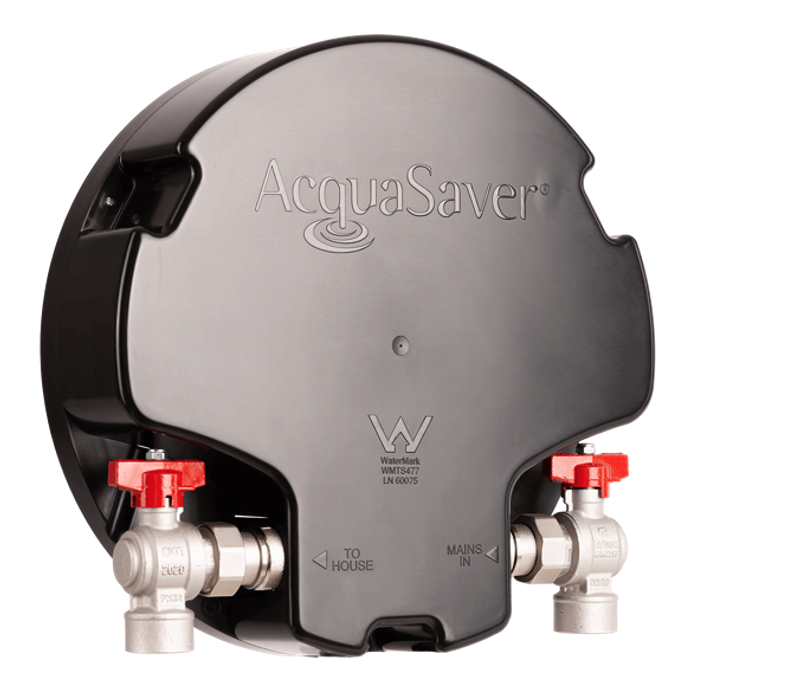 Kingspan, High-Flow Water Filtration System
Irrespective of technology, your rainwater harvesting environment stands to be hampered by resident evils, such as overflow flooding and dampness around the tank. Kingspan's High-Flow water filtration system, a pioneering/Australia-first design, has been developed to combat such issues. It is capable of handling not only water collected from the entire roof area but a volume four times greater than that which passes through standard tank filters. The High-Flow filter manages water flow rates of up to 600 litres per minute (LPM), simultaneously supplying water to the tank and bypassing the remaining quantity to the stormwater management system.

https://www.kingspan.com/au/en-au/products-brands/water-tanks/pumps-accessories/filtration-and-disinfection/high-flow-filtration
Blue Mountain Co, Advanced Release Valve
Before we can even contemplate water entering the tank, we must consider how the system might isolate the first "flush" of contaminant-laden water during rainfall. First flush diverters are essential in ensuring rainwater protection and quality, and as such, it is imperative they remain drained and unclogged. Enter the new Advanced Release Valve from Blue Mountain Co. With its electronic auto-release timer, the Advanced Release Valve enables users to determine how frequently their first flush diverters are emptied. A unique funnel and large draining valve minimise clogging and maintenance while maximising water quality. Importantly, the Advanced Release Valve is capable of being retrofitted in existing first flush diverters.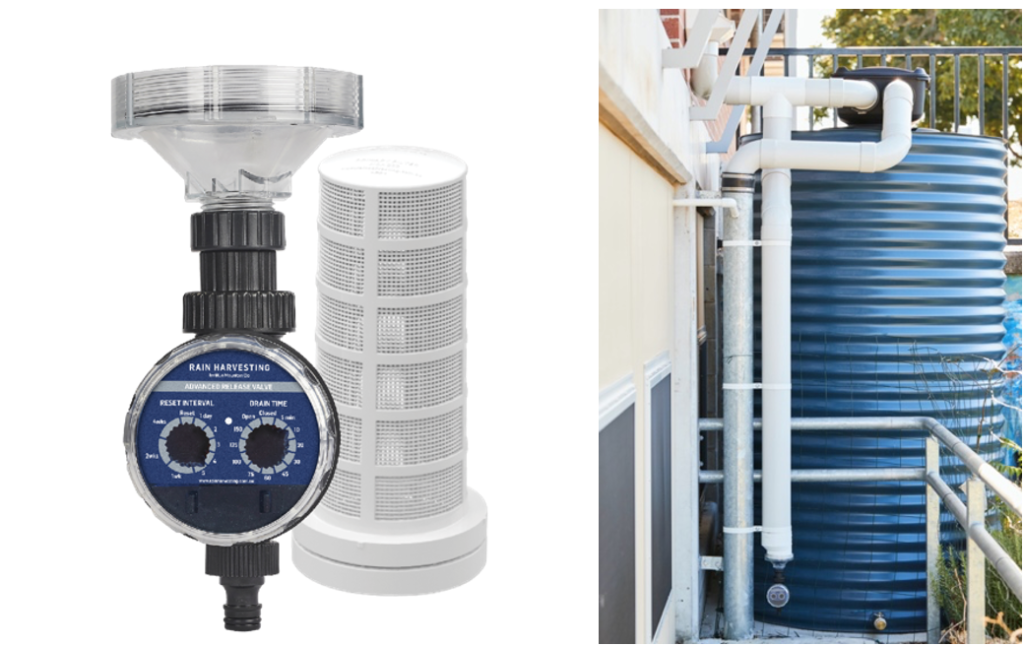 https://rainharvesting.com.au/products/first-flush-diverters/advanced-release-valve/
Overall, it is evident the rainwater harvesting industry is spawning innovative ideas, designs and technologies. We expect this good work to continue now and into the future.